If all goes well, the new STEAM by Design Lab will be constructed during the 2020 – 2021 which will include Science Labs and the Library. I feel this is one of the most important efforts I will ever be involved in as a professional educator. I believe a well designed learning space will fuel learning for the next 50 years of learning. A poorly designed learning space will restrict the next 50 years of learning. Which will we build? Will the design be based on the research and neuroscience of how we learn? Or will the architects design a space that comes in on a budget set in times when rooms for learning were teacher centric, relied on compliance over engagement, and when information was scarce and learners could not learn without being in school. All of those things have changed dramatically in just the last 20 years or so. I have been thinking about this a lot as I think we need to get this right.  Another factor is the fact that this will not be a space I help design for myself but for most likely my replacement. As my career is now sprinkled with the internal debate of retirement along with the occasional question from colleagues; "How many years do you have left?", it is clear to me that my lasting impact on the future DA students will be how I helped our school think about designing spaces for learners and learning and not for teachers and subjects.
The drawing above is where my thinking is now for what I think the STEAM by Design labs should look like. A list of must haves is forming although I am sure it will change before the ground is broken or the current building is touched.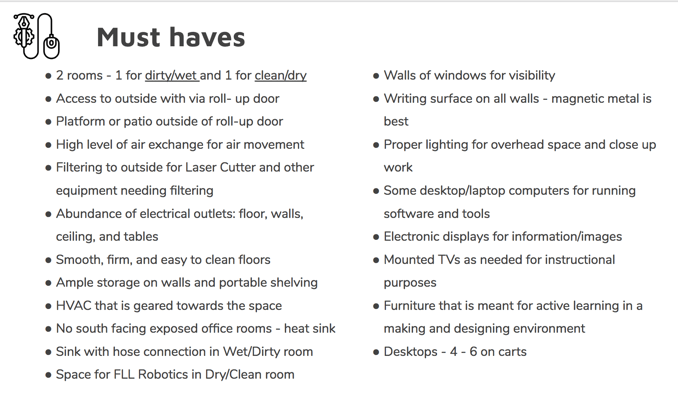 My thinking is being guided by my 25 years of teaching and learning along with these awesome organizations and folks.
TranscendEducation has put out a wonderful resource for designing spaces for learning. http://www.transcendeducation.org/designing-4-learning
Learning Transformed Book by Eric C. Sheninger and Thomas C. Murray http://www.ascd.org/Publications/Books/Overview/Learning-Transformed.aspx
David Jakes' many resources: https://davidjakesdesigns.com/ideas/2018/8/28/what-your-spaces-say and https://davidjakesdesigns.com/
American School of Shanghai Learning Spaces Manifesto : "If a space delivers everything we expect, it hasn't been pushed far enough. " https://www.saschina.org/academics/learning-spaces
Designing for Learning by American Association of Architects: http://designforlearning.archfoundation.org/
And good ole Will Richardson and Bruce Dixon at Modern Learners: https://modernlearners.com/ and especially the post about Designing for Learning https://modernlearners.com/designing-for-learning/ which discusses the work of  Carol Black and her post http://carolblack.org/the-gaze and Ira David Socol https://mystudentvoices.com/what-does-it-mean-to-build-a-school-or-to-rebuild-a-school-3c8dd5b356d5
Watch her video on WEIRD societies. (Western Educated Industrialized Rich Democratic)