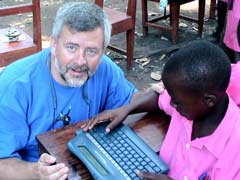 I am the Digital Learning Coordinator at Durham Academy Middle School. I am an advocate of teaching children for their future and not our past which is why I advocate using 21st Century tools with my students. I have conducted numerous workshops over the last 14 years. I am actively involved in the field of digital education. As the Digital Learning Coordinator I am responsible for helping to devise, schedule and implement the digital integration training needs of the Durham Academy Middle School. I also serve as the Technology Department Chairperson coordinating the Curriculum and Scope and Sequence of the Department. I am excited to be involved both in education and with integrating digital tools into the classroom. I am constantly aware of how fearless the children of today are in their approach to using technology as a tool. Everyday in the computer lab is magical as the children approach their learning using the technology available to construct their projects and learning models.
In 2003 and again in 2004, I was selected to go to Uganda with the North Carolina Zoo to assist local educators in developing curriculum materials and assisting in integrating technology into their teaching methods. The picture above is me and a student at Bigodi Primary School as they demonstrated how they had progressed with typing after one year. I was impressed as the year before most students had never witnessed the pressing of a key to make anything appear on a device like the AlphaSmarts.  In order to foster greater understanding for my students, I created a UNITE web site for information and interaction. Sadly due to lack of funding the site closed down in March, 2009. To view a movie of one of my trips check out: http://shielsproductions.com/zoo-tv/uganda-unite/  In December of 2002, I was selected as a semi-finalist in the Technology and Learning's Ed Tech Leader of the Year Award. I am greatly honored to be considered one of the semi-finalists for this great award.
I am a founding member of the NCAIS C.O.T. (North Carolina Association of Independent Schools Commission on Technology. We are advocate group of teachers and administrators dedicated to help member schools. We have adjusted our name to NCAIS Innovate. See more of our work at http://innovate.ncais.org/ncais-innovate/. In the summer of 2010, I dropped off of the commission in an attempt to balance my life a bit.
In 2010, I was selected to be an NCAIS Master Teacher for the 21st Century. Learn more about this exciting leading edge project at http://www.ncaisvirtual.org/page/6285_21st_Century_Teaching_Academy.asp
Follow me on Twitter @digitalkarl
My YouTube Channel http://www.youtube.com/user/528digital
Interested in working together to harness the promise of digital learning? Check out http://digitalkarl.com/
I am also a grandfather, father, husband, and farmer. I strive to balance my digital life with my analog life. I suggest we all find time to unplug from the technology and plug into the beauty of nature.
Disclaimer: The postings on this site are my own and do not necessarily represent Durham Academy's positions or opinions.