UPDATE on July 27, 2018 as I just found this post in my drafts which gave me an epiphany related to the bulk of this post that I worked on in May.  These are features and not bugs which I will embrace as look at the learning that is taking place by all of us.
As we closed out another year in learning together, I think the title best illustrates how I feel about the year. We had periods of high-level inspiration happening with learners owning their learning and regulating what they worked on, failed at, and overcame in the different units we explored. I will make adjustments to next years seminar in order to increase the inspiration although I am acutely aware that I will never eliminate the flow between inspiration and perspiration due to the nature of what STEAM by Design in at its core.
The most inspiring learning was demonstrated by learners who could self-regulate, direct their own learning, stick with an idea even though it involved many iterations before they achieved the success they were hoping for. This is the standard I hope to achieve with all learners in STEAM by Design. Here are some of their reflections, feedback from survey, and work.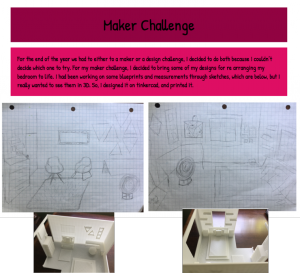 "At first I wasn't interested in this class but my parents made me do it. I ended up loving it and now it is by far my favorite class." "This class was fun and taught me a lot." "Thanks for an AWESOME year!!"
The most perspiring aspects were demonstrated by those learners who could not self-regulate, and direct their own learning. There were a handful of learners who were not able to adjust to the shift in who controls the learning. Most of their work was often titled Copy of or was not delivered. I will make adjustments next year to redirect those learners out of STEAM by Design if needed as it is not a good fit. The comments below from the student survey sums it up pretty well.
"Felt very unstructured and unorganized, slightly more structure would have been nice (but not too structured)."  and "More things that are assigned."
The next iteration will have fewer learners and all who applied have been accepted. I think this change will make the need to redirect learners out of STEAM by Design a mute point, at least I hope so.