Photo: on 12-15-2010 http://www.flickr.com/photos/clickykbd/2710697870/
I have been thinking about this post since reading Silvia Rosenthal Tolisano's blog post on what do you have to lose on her Langwitches Blog. The post came to my attention after I clicked on a link that one of the people I follow on Twitter shared. I am grateful to the person in my PLN who shared it although the fact that it was shared is exactly the proof of this post. I used Instapaper to read it later on my iPad, found myself thinking about it while I mucked the barn in the cold dawn of the morning, and each day at school when I watched my students practice learning how to find their voice with VoiceThread and Google Apps for Edu. There is so much good information in this post and links, that I plan to show it to my faculty and anyone else who happens to read this post. I may even create a workshop around the core ideas on sharing and tools to do it effectively. It summarizes what I have been advocating for our students to do more of for about four years. My role may be the advocator in chief for many of these technological tools as I feel strongly that our teachers and students must embrace the skills outlined in the ISTE NETS for Students and ISTE NETS for Teachers. Students in my Digital Learning class are working on their portfolios with VoiceThread and many are on the third or fourth attempt either to perfect it or because there were issues. This is not a waste of time as the learning gets deeper each time they practice. I think it is important for all of us to find our voice and frankly, get over how we sound. I helped a Spanish teacher record a brief piece for the exam that is being administered. It took four takes to get it just the way we wanted it. Truth be told, the second one was golden but I lost it somehow. Again, learning is messy. She remarked how she had trouble listening to herself. I assured her she needed to get past that and the only way to do that is to do more, not less.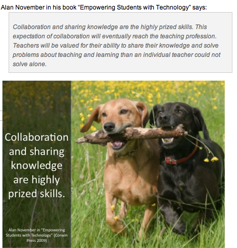 In her article, Silvia has this image and quote in her post which I think is the heart of the matter. We need to teach our students how to share and collaborate as a skill and not as something to be avoided or prevented. I love it when we have club and the students exclaim that we now have readers from South Africa or other countries because we made our school "newspaper" a blog this year. The Cav is one attempt at sharing done by our students. They write the posts and the two teachers serve as editors to make sure it meets the standards of a journalistic paper before it goes live. We had a FirstClass blog for the last three years but never knew if anyone was reading it. Our new Google Apps for Education accounts are allowing students and teachers to share work with each other.
Read the blog by Silivia and lets get to work teaching our students how to find their voice and how to share their learning with other learners.
Sharing helps me everyday via my Twitter stream, the Diigo bookmarks that are shared by other teachers from around the world, Google Reader where articles are brought to me around interest areas. How can we not help our students to harness the power of these curated streams of information. To not is to do them and ourselves a great disservice. Dean Shareski also did a post on how to make better teachers where he suggests we get all teachers blogging to reflect on their teaching. Another great idea for me to weave into the workshop that is starting to take shape in my head.
As I was finish this post, I want to share a message I received from a teacher and a picture of a tweet from Melissa Trendenick that she sent while at a conference where Pat Bassett was speaking. Both affirm my points in this post. Without the tools and sharing, learning is diminished.
 

Hi Karl,

I have a student who is in Korea and is missing a week and a half of school due to the death of her grandfather. She is currently completing assignments for our short story unit using google docs and Moodle. She is able to read the short stories from Moodle and is writing (and having teacher and peer edits) via google docs. Thank you for these wonderful tools. Otherwise, She would miss two weeks of work.

 

Just wanted you to know, these tools have a powerful impact and daily extend my course beyond the wall of my classroom.