In February I wrote about shelf technology where I lamented the lack of integration of many of the tools we have at the ready for our students. I have had a wonderful week working with Kate Birgel, (8th grade Language Arts) and Kim Arrington (Artist-in-Residence) as we worked with students on multimedia projects based on The Life of Pi book they had read.
We used all of the "shelf technology" plus some last minute software tools that solved a need we discovered we had.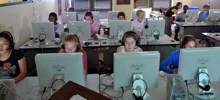 ID Poems: Check them out at our Digital Locker
Write a poem that communicates who you are and how you have transformed as Pi transforms.
* What's in your name? You may look up the origin of your name http://babynamesworld.parentsconnect.com/ to add to this activity.
* What does your name mean to you?
* What power do names hold?
Construct your poem as follows:
I am _____________
I am Favorite Animal
I am Favorite Candy
I am Favorite Color
I am Favorite Season
I am Favorite Clothing
I am like Pi….
My Favorite Quote
Name Meaning
Vox Pops: Check them out at our Digital Locker
Collectively the groups came up with at least 3 questions about one of the themes in the book. They then took turns recording each member's response to the question. These are recorded, edited, and uploaded. In addition to audio Vox Pops, students documented the process with video cameras.
Themes for Vox Pops
* Storytelling
* Find Self
* Man vs. Nature
* Human Relationships
* God/Religion
* Man's Inherent Nature
* Man's will to live
* Good vs. Evil
* Rebirth
I am a proud and grateful teacher and happy that we had the shelves stocked.
Technorati Tags: class2.0, devices, learning