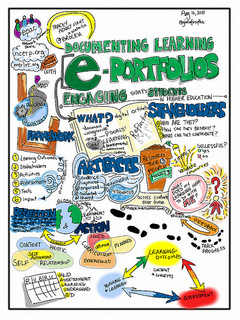 Image Credit: http://www.flickr.com/photos/59217476@N00/6050805936
I am getting ready to work with classes to create and add artifacts to Google Site Portfolios. I thought this year I would make a sliderocket and embed it in the template so the students would have a tutorial after we worked together. I love how I can create presentations either in Google Drive or in sliderocket and then add my voice. I find doing tutorials this way better and easier then trying to do screen recordings especailly with the hoops you have to go through to record the iPad effectively. I always have to do multiple retakes as well since I mess up recording or the bells ring and I have to start over.  Since we use Google Apps for Education our sliderocket is free. I hope the new owners Clearslide continue with providing schools free accounts. Of course, if they stop, we will move on like I do each year.
This page will have a tutorial that we used to create the portfolio. It will help you in case you forget how to do something as you go through the Middle School. Since it is both a link and embedded, and changes that take place will be automatically updated to the tutorial.
Google Site Portfolios using Google Search App – A sliderocket