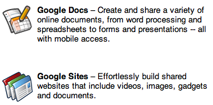 I am  pleased to announce the new Google Apps for Education at DA Middle School. I have begun to show students and teachers how to use these powerful tools. Students in 5th and 6th grade are already writing collaborative documents or sharing their private writing with their teacher. Efficient and eliminates all the issues of not having the proper software or the wrong version of the paper.
Basic Rules:
Use of the tools will be for school related projects. The use of Google Apps for Education K-12 is governed by Durham Academy's Middle School Handbook and Durham Academy's Acceptable Technology Use policies. The account will be managed and administered by Durham Academy.
Google Collaborative Apps @ Durham Academy will provide access to digital storage, Google Docs (Word Processing, Spreadsheets, and Presentations) and Sites. Other collaborative web-based tools may be introduced in the future.
Google Apps at DA Middle School will not include Gmail, Calendar, or Google Talk. FirstClass will remain the only application for this type of communication.
Students will be able to use Google Docs to:
* Work on documents from any computer with an Internet connection
* Collaborate and share their work with other students and teachers
* Get instant feedback on their work from multiple collaborators and teachers
There is no ability to share documents outside of the students.da.org Google Apps Domain.
I have shared this story with classes after it happened to me. I was working on my nice 27 inch iMac in my office when we had a power surge on campus. Last week I had to switch my power supply from the UPS backup slot to the surge protection slot due to a chirping battery that needed to be replaced. Since I was no longer plugged into the backup slots, the chirpying was not an issue, but I also had no reserve power for when we lost power. The minute the power surge hit, my iMac shutdown. I lost some things I had open but had not saved prior to the power surge. I did not loose the Google Doc I was typing on because it saves every few seconds or when changes happen. This reminded me of the first question posed to me in my interview in 1999. "When should a student know how to save"? My answer was when they needed to save. How far we have come in 11 years. I am not sure the question was only on when but more then likely it was about name of file, where to save, and how often, most of which are still skills our students need to know. Saving anything as untitled is not a solution even if the software saves automatically in the background like Google Docs does. More software is beginning to save automatically to save us from ourselves.
Issues I have had to solve relate to involve redirect messages because of students  using our new Google Apps domain, (http://docs.students.da.org) AND also use a different Google account on the same computer/browser.
Sometimes users get an error message in Safari or other browsers like this:
"The page isn't redirecting properly. This problem can sometimes be caused by disabling or refusing to accept cookies." I then tried again and got this message from Safari": Safari can't open the page.

Too many redirects occurred trying to open ìhttps://www.google.com/a/students.da.org/ServiceLogin?service=wise&passive=1209600&continue=https://docs.google.com/a/students.da.org/document/d/1H7gPzpj_gKWaOaNnzZs-Lnc0_sj1UYpsu6z_yvjYCQw/edit?hl%3Den&followup=https://docs.google.com/a/students.da.org/document/d/1H7gPzpj_gKWaOaNnzZs-Lnc0_sj1UYpsu6z_yvjYCQw/edit?hl%3Den&hl=enî. This might occur if you open a page that is redirected to open another page which then is redirected to open the original page."
It seems that using the same browser to log in to multiple Google accounts causes the issue. The solution for now is to adjust your browser's Cookies and Cache.
Basically, you need to Remove Existing Cookies, Accept Cookies from all sites, and Clear the Browser's cache file. The cache file stores information from previous visits which is what causes the problem when you have more then one Google Account.
The best strategy for using one computer with more then one Google Account is to use one browser for one account and a different browser for another account. This prevents the cookies and cache issues.
In the near future, I am looking forward to  Google Apps being fully supported in Safari mobile on the iPad as that and Moodle 2.0 will be an awesome combination for learning and collaborating for our students. Until that comes, Office2 HD works beautifully.