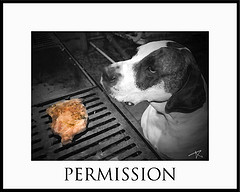 'Seeking Permission' http://www.flickr.com/photos/50614028@N00/3827632898
At the last Innovation and Learning Cohort meeting, I suggested we could write a chapter called "The Permission Not Taken" after many members, and myself, expressed the reluctance to stray from a lesson plan that has always worked or that we just felt we had to do in order to meet our goals or the curriculum goals. All of us agreed that we have the luxury and support to experiment and adjust our classrooms as we best see fit. This is a benefit of working at a private school that trusts their teachers to be the professionals that we are. So I took a slight risk and decided to tryout the Pixton for Schools accounts I had purchased as I wanted to try something different. I knew I was onto something when students began to remix the assigned comic and were saying how it was awesome, fun and the best thing they had done. I was also learning how the Pixton Teacher Console works so I could show it to other teachers. We were in all ways, learning with myself modeling to my students by doing it myself.
After the initial introduction comic, I asked them to create a comic based on the Martin Luther King, Jr., themes of Equality, Freedom or any other concept they felt important since we had been discussing that all week at school as part of our Martin Luther King, Jr. celebrations. I want to share a couple below as they created some wonderful ones while I learned how to use this awesome teacher friendly site.
My advice is to take the permission granted as we all might learn more.