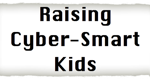 Michele Gutierrez gave a repeat presentation of her earlier talk on how we as parents and teachers can help our students. She offered these links for parents to check out or join.
Common Sense Media – Join Today –  http://www.commonsensemedia.org/
Google Family Safety: http://www.google.com/familysafety/
I would add these two:
Google Good to Know: http://www.google.com/goodtoknow/
How to manage your data with Google by using Data Liberation: http://www.dataliberation.org/
These two standard definition movies will give you the context of Michele's presentation. They are a bit "yellow" but the message is measured and appropriate. Feel free to share this link with anyone who might benefit from this presentation.
Part 1 Time: 30:29

Part 2 Time: 34:01