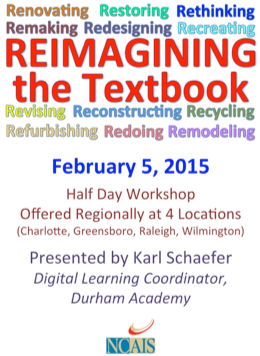 I am pleased to announce the Reimaging the Textbook workshop I am presenting for NCAIS. For more information visit the NCAIS website. This is a virtual workshop being conducted at the offices of Senn Dunn Insurance in Charlotte, Greensboro, Raleigh, Wilmington, and the High Point office if Greensboro fills up. The training rooms available here are state of the art and used for training everyday. I am excited to do this type of training as it has been many years since I did a virtual session at NCSSM.
The workshop description and workflow is below:
New tools and the internet now offer a modern day digital printing press for teachers and schools. This represents a shift in how information is curated and shared. No longer must schools and teachers rely on publishers to provide information to guide the learning.
As Audrey Watters wrote in 2012 http://hackeducation.com/2012/03/19/beyond-the-textbook/
"The textbook as written and published also serves as a reminder that experts are outside the classroom. The teacher is not the expert. The students are certainly not the experts. Copyright means that the words of those experts is unalterable, uneditable, unsharable. Fixed. Protected". "…. we needn't write textbooks from scratch. We can remix. We can edit. We can extend. We can share".
The following will be covered in this workshop:
Discuss the most popular formats for digital books ePub, AZW/Mobi, ODF and PDF.
Investigate leading resources which allow the teacher to create their own reimagined textbooks using free and open educational resources.
Practice making class resources with CK-12, Gooru, OER, along with software like iTunes U (Macintosh or Windows) and iBooks Author (Macintosh only).
Discuss the delivery to ensure that what you create will be readable by your students online, offline, or both.